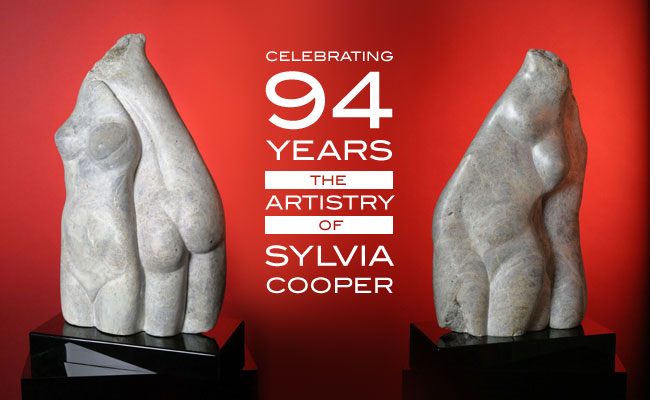 Naked and Defiant / 1999 / soapstone
At 94 years of age, emerging artist SYLVIA COOPER is taking a "better late than never" approach to her second public exhibition of her artwork.
"Embracing 94 Years: The Artistry of Sylvia Cooper" celebrates Cooper's 94 years of art, music, and creativity.
Her style is cutting edge as well as classical. Her subjects range from abstracts to representational mothers and daughters, animals to exquisite torsos. But they all have three things in common - grace, strength, and vitality - all of which describe this emerging artist.
Too busy in her early years for art, she decided years ago to dedicate one day every week to expressing herself artistically. Her dedication paid off with an extensive body of work that grew throughout the years.
"One day I said to myself 'only Wednesdays' I would devote to trying to express myself artistically," said Sylvia. "And on that day, I would devote my time for art. I started by working on paintings in oil and watercolors. Later modeling clay, ceramics, and Toby Mugs."
A visit to a sculptor's studio gave Sylvia the realization that she could explore working with a hammer and chisel and carve a piece of stone into an object of art. Soon thereafter, she found herself working on her art on a regular basis, making it her career and passion.
Sylvia muses, "My Wednesdays were then surrounded by Mondays and Tuesdays. I couldn't wait to get to the studio under the eucalyptus trees. Through my art, I found my voice."