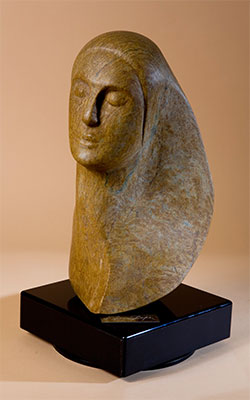 Old Soul / 2005 / alabaster
Sylvia Cooper
Los Angeles (July 2009) - "Fairy tales can come true. It can happen to you. If you're young at heart..." So it is, in the life of 94 years young Sylvia Cooper who began painting at the age of 50. Four years later, she experienced the first exhibition of her artwork. "Embracing 94 Years: The Artistry of Sylvia Cooper" continues to celebrate the creativity and persistent spirit of this "emerging" artist.
Sylvia's subject matter ranges from abstracts to mother/daughter representations and animals to exquisite torsos. Her dedication has paid off with an extensive body of work consisting of approximately seventy sculptures and hundreds of silkscreens and oil paintings. United through their grace, strength, and vitality, her pieces have been purchased over the years by both corporations and private art collectors. Sylvia's sculptures and serigraphs are on permanent display at the Skirball Museum and UCLA.
Sylvia married Frank Cooper, an agent and producer who discovered Frank Sinatra, Dinah Shore, and many others. They raised three children and now have five grandchildren and two great-grandchildren. Sylvia and Frank are actively involved in their community - first in New York, then in Los Angeles. Known as an orator, Sylvia has chaired many foundations, always promoting freedom and human rights.
At her art studio under the eucalyptus trees, you will find Sylvia. She says, "through my art, I have found my joy, and through that joy, my spirit." Sylvia Cooper might just be humming another tune these days: "The best is yet to come..."
Born:
July 9, 1915. New York City
Resides:
Encino, California
Education:
Course Work: Pratt Institute, New York
Brooklyn College, New York, B.A
Barnsdall, Los Angeles, Calif.
Classes With: Martin Lubner (oils)
Morton Dimondstein (oils)
Evelyn Johnson (printmaking)
Lois Sloan (Sculpting)
Group Exhibitions:
Hillcrest Country Club - 1985, 1986
Vicky Ulansey Gallery, Malibu 1985
Selected Collections/
Collectors:
Skirball Museum
UCLA
Olive View Hospital
Arco Corporation
IBM Corporation
Martin Cooper, M.D.
Lael Horwitz, PhD.
Louis Adler, M.D.
Sy Fischer
Mrs. Jacob Karp
Raymond Sandler
Selected Galleries in Germany, New York and Texas
Representation:
Pamela Cooper
The Cooper Company
(212) 302-5559 (Tel)
(310) 365-1500 (Mobile)